Red Ball 6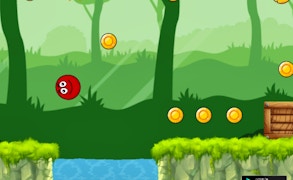 Red Ball 6
Step right into the magical world of Red Ball 6, a riveting addition to the line-up of scintillating arcade delights. If you're an avid fan of ball games, this game is sure to satisfy your gaming cravings like no other.
The premise is simple, yet incredibly immersive with the focus resting on guiding a vivacious red run ball through a labyrinthine adventure filled with unexpected challenges and exciting rewards. This easy-to-learn but hard-to-master narrative pushes the boundaries of the traditional arcade format, making Red Ball 6 one out of a handful of true 'one more go' games.
Red Ball 6, also known as 'Ball Hero: Red Bounce Ball', retains the spirit of its predecessors while introducing fresh elements that pack an adrenaline-infused punch. The game features exuberant levels where you need to escape perilous traps and cunning enemies in an environment that's surprisingly addictive and immensely fun. If you thought escape games lacked diversity, think again!
The control scheme is straightforward and responsive, instantly hooking gamers in for an enchanting journey filled with thrilling leaps in pursuit of victory. Embellished with vivid graphics and captivating soundtracks, this game takes 'fun' to a whole new dimension, making it one of the most engaging fun games.
If earlier versions of our quaint 'red big ball' had you tantalized at every turn, prepare to be blown away by this latest incarnation. With superior gameplay mechanics and more intricate levels, it's not hard to see why Red Ball 6 has taken the ball bouncing universe by storm.
In conclusion, if you're after fluid gameplay in an arcade package that brings together elements from ball games and escape games encapsulating wholesome fun, make haste! Let Red Ball 6, be your next gaming adventure.
What are the best online games?