Red Alien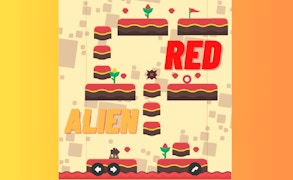 Red Alien
Description
In Red Alien, you're thrown into a retro-influenced arcade world, full of challenging levels and enemies. This arcade game from 2023 lets you control a peculiar red alien who is on an adventurous journey in an unfamiliar territory. The game offers a combination of platforming challenges, puzzles to solve, and baddies to defeat, which will keep the players glued to their screens.
How to Play
The controls of Red Alien are simple and easy to understand. Use the arrow keys or WASD on your keyboard for movement and jumping. Progress through each level by vanquishing enemies, solving puzzles, and avoiding obstacles. As you journey through the game, its complexity progressively increases requiring more strategy to advance.
Tips and Tricks
In Red Alien, timing is key. Evaluate each obstacle before proceeding to eliminate errors. Collect power-ups whenever possible; they enhance your alien's abilities, making it easier for you to progress through levels. Remember to conserve your health as there are limited health boosts available throughout the game.
Features
Retro arcade style graphics: Red Alien brings back the nostalgia of old school games.
Intricate Levels: Each level presents unique challenges that require strategic thinking.
Diverse Enemies: With a multitude of enemies, players never encounter repetitive gameplay.
Power-ups: Different power-ups augment the alien's capabilities making gameplay more exciting and diverse.
What are the best online games?