Reap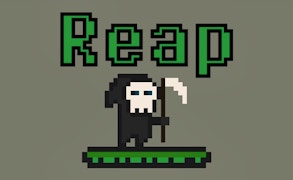 Reap
Stepping into the captivating world of Reap, you're instantly transported back to the charm of classic Retro Games. This delightful addition to the Pixel Games genre thrives on its unique premise and intricate game mechanics, with an endearing pixelated veneer that harkens back to the golden age of arcade gaming.
The solid foundation of Reap is built around a fascinating mechanic where the player can take or give life essence. This innovative concept introduces a dynamic aspect to gameplay that redefines the conventional methods of puzzle-solving. The notion of, 'out of life,' introduces a creative layer to every encounter, turning ordinary scenarios into mind-bending puzzles.
The pacing of the game is laid out across 24 carefully crafted levels, each one providing its own set of challenges and rewards. Whether it's about maneuvering with skill to bypass hurdles or exercising patience in tricky segments, mastering Reap demands both thoughtfulness and precision. It's not just about getting from A to B; it's about harnessing your metaphysical abilities effectively for progression.
Reap brilliantly exemplifies how a simple premise can be transformed into an intriguing gaming experience. It forges its uniqueness with clever game design and novel mechanics, wrapped up in evocative pixelated aesthetics that will resonate with fans of both Retro and Pixel games. This tasteful blend creates an engaging experience that rewards strategy and patience while constantly keeping players on their toes.
In conclusion, Reap is an intriguing gem within the arcade genre that pays homage to Retro Games while simultaneously offering new-age gameplay elements. It's a refreshing spin on Arcade Puzzle Platformers that deserves attention from every corner of the gaming community.
What are the best online games?
TAGS