Real Rickshaw Drive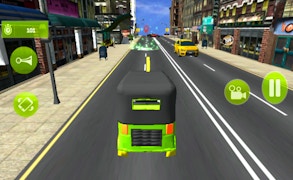 Real Rickshaw Drive
Step into the thrilling world of Real Rickshaw Drive, a top-tier addition to the realm of car games and driving games genre that emerged as an absolute sensation in 2019. This game isn't just another run-of-the-mill driving simulator, it's an exhilarating fusion of off-road driving, speed and precision that will have you on the edge of your gaming chair.
Real Rickshaw Drive manages to seamlessly blend the hectic and exhilarating universe of dirt bike games, and motorcycle games, with the heart-racing thrill of off-road rickshaw driving. It's like riding a roller coaster through a sandbox; unpredictable, raw, and absolutely engaging.
If you've been searching for a game that masterfully combines elements from various beloved car, motorcycle, and simulator games, then look no further. In an ingenious twist, Real Rickshaw Drive also integrates facets of parking games. Yes, you read that right! It incorporates parking challenges that require razor-sharp focus and flawless execution, making it a treat for all the parking game enthusiasts out there.
The rickshaw service in this game requires players to pick up and drop passengers amidst city traffic and mountainous hill terrains, similar to traditional taxi missions but with ten times more complexity. The combination of hyper-realistic graphics and engaging gameplay makes for an addictive concoction that'll have you hooked for hours on end.
In conclusion, whether you're a die-hard fan of Dirt Bike Games or someone who appreciates the artful precision required in Parking Games; whether you love the adrenaline rush from Motorcycle Games or appreciate a well-made Driving Simulator - Real Rickshaw Drive has something for every gamer out there. It is an absolute must-play!
What are the best online games?