Real MTB Downhill 3D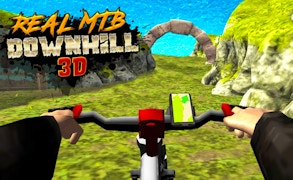 Real MTB Downhill 3D
As a dirt bike games aficionado, you'll surely appreciate the adrenaline rush that Real MTB Downhill 3D delivers. This is no ordinary motorcycle game, it's a challenging test of skill and endurance set against the backdrop of stunning mountainous terrain.
From the moment you first hit the trails in this engrossing game, you'll be captivated by its beautifully rendered 3D graphics. The five different roads boast different weather conditions and tricky terrains that command a hefty dose of strategy. The realism in this game is not confined to just its graphics, but is deeply ingrained in its mechanics – making it one of the most realistic and thrilling driving games out there.
The key to success lies in your ability to effectively navigate through these treacherous paths before time runs out. As you ride through rain, snow, or the scorching sun, your skills will be put to the ultimate test. With every successful ride, expect an array of rewards that include option to customize your dirt bike's color or upgrading your riding gear – catering to those with an eye for aesthetics.
In conclusion, Real MTB Downhill 3D is not just a game; it's an exhilarating journey that pits man against Mother Nature. Unlike other generic skill games, this isn't just about speed but also about maintaining control and balance amidst adverse conditions. If you're a fan of extreme sports simulation games that offer real-world challenges and rewards, then this game is a must-try.
Dive into the world of dirt bike games with Real MTB Downhill 3D – where every ride takes you on an unforgettable adventure and pushes you to elevate your gaming prowess!
What are the best online games?