Real Garbage Truck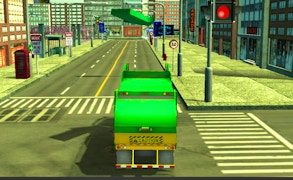 Real Garbage Truck
Step behind the wheel and buckle up for the most immersive driving simulator game, Real Garbage Truck. This isn't your typical racing game; it's a unique blend of strategic parking, precise driving skills, and tactical maneuvering. It mixes the best elements of truck games and simulator games to serve you a truly next-level gaming experience.
This city-based game makes you the captain of a futuristic garbage truck, serving your community in a role that often goes unsung. You are not just a driver - you embody an essential part of urban life. The game takes you on an engaging journey through intertwined highways, demanding precision and skill to navigate. With its highly accurate truck simulation feature, Real Garbage Truck delivers unparalleled realism in the realm of driving games.
The real essence of this game lies in its parking challenges. It transforms ordinary parking games into a thrilling expedition where every marked place is a checkpoint that tests your technical prowess. Your objective is to stop your garbage loader truck near designated dust bins or koradan (a concept you'll get to appreciate as you delve deeper into the game), pushing your parking skills to their limits.
The built-in City Cleaner Simulator adds another layer to Real Garbage Truck by incorporating different aspects of city cleaning services into gameplay. It ensures that no two driving missions are the same, making this offering stand out among other simulator games.
In conclusion, Real Garbage Truck is not just about high-speed thrills; it's about mastering control, precision, and timeliness - skills that are crucial in real-life driving scenarios too. The seamless blend of detailed driving simulation, realistic parking challenges, and strategic gameplay elements make this title worth every minute for fans of truck games, parking games, and driving simulator games.
What are the best online games?