Real Football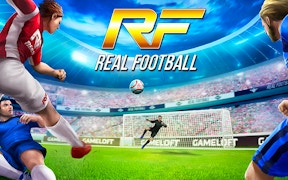 Real Football
Indulge in a thrilling experience with the latest installment in the long-standing football game series, Real Football. This riveting soccer game is not just another drop in the ocean of football games, but a legendary title emerging in the realm of ball games.
The unique feature of Real Football is its duality, functioning as both a free simulation sports game and a comprehensive manager game. It's like having your favorite cake and eating it too! The taste of victory is even sweeter when you take your self-built dream team to new heights, paving their path to endless glory.
Champion your team from the shambles of obscurity to the limelight of global fame. Win leagues, clinch cup championships, or even go head-to-head against world champions! The thrill never stops—it only intensifies.
Strategize, manage and lead on-field as well as off-field actions. You're not just controlling players; you're sculpting future legends. This free fantasy simulation lets you orbit in dreamland where reality and fantasy merge into exciting soccer games.
If you have always wished to don the hat of a manager for your fantasy team, Real Football offers that opportunity in one comprehensive package. Get ready to navigate through nail-biting decisions and inevitable trade-offs that will test your tactical skills.
In conclusion, whether you are an expert footballer or an armchair expert wanting to test their managerial skills, there's something for everyone in Real Football—a magnum opus in football games. Come along for a thrilling ride into the realm of digital football; it's time to rewrite history!
What are the best online games?