Real Extreme Car Driving Drift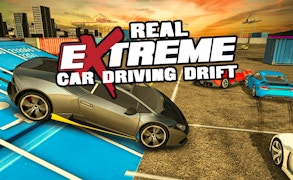 Real Extreme Car Driving Drift
Immerse yourself in the high-octane world of Real Extreme Car Driving Drift, one of the freshest additions to the exciting universe of drifting games. Created meticulously by Game Tap, this masterpiece strokes the perfect balance between realism and adrenaline, placing it a cut above other driving games in the market.
Dive into the heart-pounding excitement that encapsulates the essence of real-world car races. With its advanced real physics engine, this game doesn't just let you play; it pulls you in, giving you a taste of authentic car games like never before. Your breath will hitch in your chest as your car hugs a tight corner, tires squealing against asphalt - it's true love for any motorsports aficionado.
This extreme car simulator goes beyond casual gaming and takes you on an exhilarating journey where your driving skills are put to test in unforgiving terrains. The impressive graphics paired with realistic car sounds provide an immersive experience akin to driving a real car; heart pounding, senses heightened, adrenaline rushing. Welcome to some real fast-and-furious-like action!
Fans of simulator games, buckle up! Tricky turns, ruthless opponents, and unpredictable weather patterns - this game has them all! The most intricate details have been handled with finesse to ensure that every race challenges strategy and tests mettle. As a player, you need more than just quick reflexes; you need precise control and a keen sense of timing to master this artful dance of balance and speed.
Skill Games lovers will appreciate how Real Extreme Car Driving Drift pushes the envelope when it comes to challenge and depth. Every race is an opportunity to hone your skills, polish your technique, and climb up those leader boards!
If you haven't yet taken this thrilling ride yet - don't hesitate any longer! Strap yourself behind the wheel of Real Extreme Car Driving Drift - where legends are born on blistering tarmac under scorching sunsets.
What are the best online games?