Real Excavtor City Construction Game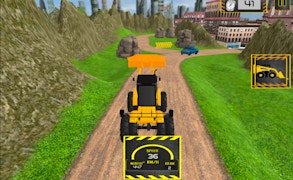 Real Excavtor City Construction Game
Get set to immerse yourself in the electrifying world of Real Excavator City Construction Game, one of the newest entrants in the dynamic genre of truck games, simulator games, and driving games. Perfect for those with a penchant for power packed parking games, this game takes the joy of construction and kicks it up several notches.
The first thing that hits you about this game is how it draws you into its universe. You're not merely a player observing from afar - you're right in the mix, shoulder to shoulder with heavy duty machine operators as you take on the role of a road builder. The graphical interpretation of heavy excavator, snow blower excavators, and loader trucks gives an adrenaline rush impossible to miss.
When it comes to its place among truck games, Real Excavator City Construction Game stands tall. From operating an array of excavator trucks in an offroad city environment to engaging in exhilarating heavy-duty work reminiscent of Dump Truck Driving Games, it's a ride that keeps you firmly on your toes.
This game also scores high on the simulator games scale. The thrill of driving heavy excavators and loader trucks using an authentic-feeling excavator simulator transports players straight into the shoes of a hard-working construction worker. And when you throw in elements like excavator road building and construction, players are left with an all-encompassing experience that's second to none.
Last but not least, it's worth noting that Real Excavator City Construction Game brings fresh energy to the world of parking games. Whether maneuvering through tricky parking situations or nailing down precise turns, players are introduced to tasks that challenge their skills at every turn.
In conclusion, Real Excavator City Construction Game is a thrilling mix of raw power and intricate finesse. For gamers who love truck games, driving games or even simulator games - this is one construction site worth visiting.
What are the best online games?