Real Construction Excavator Simulator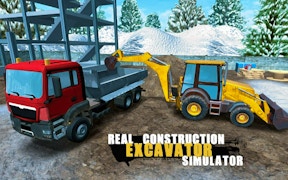 Real Construction Excavator Simulator
If you've ever wanted to feel the adrenaline rush of piloting a colossal vehicle, then Real Construction Excavator Simulator is the quintessential driving game for you. With an enthralling mixture of parking games' precision and the horsepower of truck games, it delivers an unparalleled gaming experience that will get your adrenaline pumping.
Meticulous in its design, this game catapults you into a day in the life of an excavator operator and truck driver. Immerse yourself in the tough yet exciting life of a construction worker and dive headfirst into challenging terrains. You're not just driving; instead, you're navigating real-world situations reflective of rigorous paths met on construction sites.
Your primary task? Transport and deliver essential construction materials through a plethora of terrains to your building site. And it's not just about brute force; precision, strategy, and mental sturdiness are key here too. One tiny misstep could result in the loss of your precious cargo. The sensitivity of operations keeps you on your toes - turning the game into a sweet spot where thrill meets strategy.
In Real Construction Excavator Simulator, you don't merely drive; you juggle multiple tasks that test your focus, patience, and agility simultaneously. Maneuvering an excavator to load your truck may seem like a Herculean task initially but with time, focus, and precision it turns into a rewarding experience.
The journey doesn't end at transporting goods. On reaching the construction site, your job carries on as you unload the materials at designated spots - another test for your precision skills. With each successful mission, navigate this unique amalgamation of parking games, wrapped up in the power and thrill of truck games.
Experience the thrill of driving, parking and delivering all in one in the engaging Real Construction Excavator Simulator. Adapt, learn, conquer, and see if you have what it takes to dominate this challenging terrain.
What are the best online games?