Real Car Pro Racing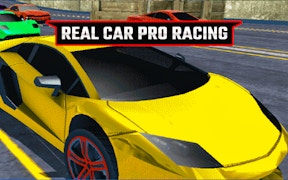 Real Car Pro Racing
If the fragrance of burnt rubber and the sound of revving engines get your blood pumping, Real Car Pro Racing is exactly what you need in your gaming library. Careening into the racing genre, this offering sets the pace for other car games, driving games, and even stands out amongst drifting games. One can almost feel the rush of wind against their face as they throttle through 36 meticulously designed race tracks.
The game brings to life the thrill of bracing yourself against the top-notch AI, opponents who not only test your mettle but also push you to improve with each progressive level. The difficulty curve escalates beautifully, keeping you on your toes and ensuring you evolve as a player alongside your virtual racing journey.
The real hook lies in Real Car Pro Racing's comprehensive car purchase and upgradation system. The game features 15 envy-inducing sports cars that are not just a treat to look at but also a joy to drive. Each car possesses an adjustable trait that allows for customization with one's style of driving offering unprecedented flexibility.
The mechanics are intuitive yet challenging. The use of nitro for those critical pushes on difficult parts of races adds an exciting layer to strategy planning. As racers gear up in this modern city filled with super-sport cars, they must navigate skilfully around obstacles while striving to be among the top 3 at the finish line.
All these factors come together harmoniously giving players an immersive experience with Real Car Pro Racing. The game masterfully combines detailed graphics and well-designed gameplay mechanics making every minute worthwhile, and every race a pulse-pounding adventure. So buckle up gamers, it's time you show them who's the best racer!
What are the best online games?