Real Bus Simulator 3D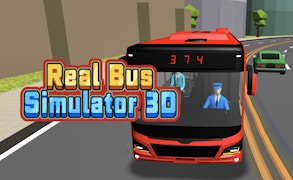 Real Bus Simulator 3D
Unleash your passion for driving games and get transported into a world of intense action with Real Bus Simulator 3D. This game is not just another one in the vast ocean of car games; it is a refreshing take that gives you an opportunity to test your mettle, not with fancy sports cars or monstrous trucks, but with a seemingly mundane city bus. Don't be fooled, though. This game is as riveting as any high octane truck games you would find on the market.
The design of Real Bus Simulator 3D allows you to enjoy detailed 3D modern game art animations which brings a new level of realism into the category of simulator games. The lifelike surroundings and vivid graphics are sure to keep you engaged while you navigate through intricate cityscapes, transporting passengers from station to station. It's time to prove that bus driving can be so much more than just parking games.
In addition, the opportunity to earn gold coins takes this game beyond a mere driving exercise. By completing exciting levels and ensuring timely transportation for your digital commuters, you get rewarded handsomely. However, remember to keep calm and drive stably! It adds an extra layer onto the gameplay as it tests your strategic skills and patience level along with your digital driving prowess.
In conclusion, if you're a fan of racing, driving, or even parking games, this virtual bus simulator will surely give you a thrilling ride into the fast-paced world of public transportation. So go ahead, take the wheel in Real Bus Simulator 3D, and experience an unforgettable journey in one of the most immersive car games around today!
What are the best online games?