Real Bike Racing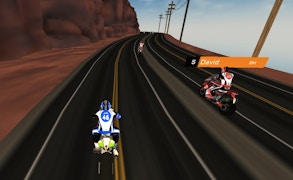 Real Bike Racing
Rev your engines, fellow gaming enthusiasts! Our latest review plunges you into the adrenaline-infused world of Real Bike Racing, a fast-paced game that accelerates the very heart of motorcycle games onto an entirely new level.
Designed to provide an unrivaled motorcycle racing simulation experience, this game is a testament to the artistic prowess of 3D realistic game engines. From the moment you grip your digital handlebars, you will feel as if you are astride an actual dirt bike, dirt flying as you race for supremacy on the challenging tracks. This title is deserving of its place amongst the best dirt bike games.
In Real Bike Racing, each track presents not only a new adventure but also another chance to prove your mettle by making a new speed lap record. It dares you to push beyond your boundaries, constantly nudging at your competitive spirit. Whether you're a rookie rider or a seasoned racer in driving games, this game ensures every lap is more taxing than the last.
But that's not all! The cherry atop this high-octane sundae is undoubtedly its customization features. From tweaking your character's aesthetics to upgrading and unlocking more powerful bikes, every modification adds to your virtual racing prowess. So gear up and unleash some serious pedal power!
In conclusion, Real Bike Racing goes above and beyond conventional motorcycle games to provide an immersive gaming experience. It brings together critical elements from dirt bike and driving games unto a thrilling platform of unparalleled excitement and challenge! Strap on your helmet; it's time to hit the asphalt!
What are the best online games?