Rail Road Crossing 3D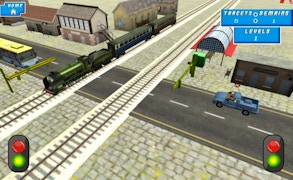 Rail Road Crossing 3D
Welcome to the wonderful world of Rail Road Crossing 3D, an electrifying game that blends the thrills of arcade, car, and skill games all into a singularly engaging package. This is your ticket to a riveting journey filled with addictive challenges that will undoubtedly keep you on your toes.
As one of the most highly-rated arcade games in the market, Rail Road Crossing 3D does an impeccable job of testing your reflexes and strategic skills. Your goal? To efficiently control and regulate automotive and train simulation traffic, ensuring none collide. It's an adrenaline-pumping task that requires masterful precision and concentration.
This game takes you beyond the ordinary realm of auto traffic games, bringing in an element of train simulation for a healthy dose of variety and difficulty. It's like playing chess on wheels - where each move could determine disaster or seamless operation.
Belonging to the family of addictive games, Rail Road Crossing 3D beautifully exemplifies how simple but engrossing gameplay can create a remarkably captivating gaming experience. Each moment matters as you strive to make sure every car crosses safely while dashing trains zoom past.
Beyond its thrilling gameplay, what sets Rail Road Crossing 3D apart from other car games is its intuitive interface and striking graphics. Boasting top-notch design quality, it creates a lifelike ambiance that offers gamers a genuinely immersive experience.
The appeal lies in its simplicity; no confusing controls or intricacies. Just pure skill-based fun emulating the exhilaration synonymous with arcade-style clicker games. As a testament to its mesmerizing charm, once you start controlling that rush-hour traffic amidst speeding trains, it becomes tough to put down!
In conclusion, if you relish skill games that provide an adrenaline rush while testing your ability to strategize under pressure, consider giving Rail Road Crossing 3D a spin. It's more than just another title in the long list of car games; it's an addictive escapade that will keep you coming back for more!
What are the best online games?