Ragdoll Fighter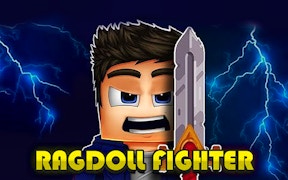 Ragdoll Fighter
Step into the world of Ragdoll Fighter, one of the most thrilling stickman games you'll ever encounter. With an array of modes to choose from, this game demands skill, strategy, and a love for high-paced action. Whether it's battling through the story mode or testing your endurance in survival mode, Ragdoll Fighter captivates in every aspect.
Ragdoll Fighter offers an adrenaline-infused journey into the heart of a ragdoll battle. Each fight is both a test of skill and wits while also being a source of resources like mines and diamonds. These aren't just ordinary rewards; they're the key to victory. With enough resources collected after each battle, you have the ability to produce new weapons or fortify your current ones, adding another layer to the strategic depth this game offers.
Sword games enthusiasts will find themselves immersed in an exciting combat system with a unique twist. In Ragdoll Fighter, each character is more than just a different skin; they're unique warriors with their own abilities and power levels. These abilities aren't set in stone either - you can upgrade them! On top of that, you can increase your power by purchasing different characters, pulling you deeper into the strategic abyss.
What sets Ragdoll Fighter apart from other battle games is its versatility. You can hone your skills in training mode before stepping into multiplayer mode where you can challenge friends and foes alike online. The story mode provides an engaging narrative that adds context to your fights while survival mode tests your combat longevity.
Ragdoll Fighter isn't merely another name in the sea of stickman or sword games, it's a standout title that has carved its own niche within this popular sub-genre. Whether you're striving for supremacy on the multiplayer battlefield or simply trying to survive intense wave-based combat, Ragdoll Fighter has something for every fighter at heart.
What are the best online games?