Racing Monster Trucks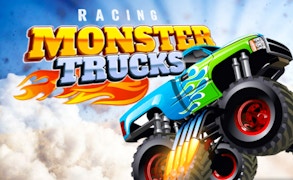 Racing Monster Trucks
If pulse-pounding speed and ground-shaking power get your gaming heart revving, then Racing Monster Trucks will catapult you to the driver's seat of an adrenaline-fueled adventure. Perfectly engineered for fans of truck games, driving games, and car games, this powerhouse brings a unique blend of thrilling momentum and satisfying control that few racing games can rival.
The moment you dive into this high-octane world of truck games, you'll find an extensive roster of beastly vehicles at your disposal. The sheer variety is mind-boggling — each monster truck comes with its own unique characteristics that make mastering them an exhilarating challenge in itself. Whether you prefer raw power, breakneck speed, or precision handling, there's a monstrous machine waiting for you.
But the excitement doesn't stop there. Beyond pure racing, car games lovers will be thrilled by the robust customization system in Racing Monster Trucks. Unleashing your creative side to tweak your ride's performance and aesthetics opens up endless possibilities for creating a monster truck that reflects your personal playstyle.
Maximize your racing prowess by upgrading your vehicle in this dynamic addition to the driving games genre. Each upgrade feels meaningful - enhancing acceleration here or improving suspension there can make a world of difference on the dirt track.
In conclusion, Racing Monster Trucks scores highly on all fronts: visually captivating graphics, engaging gameplay dynamics, and an intoxicating sense of speed that will keep any racing game enthusiast coming back for more. Whether you're a hardened veteran of truck games, or simply seeking out new thrilling car games, Racing Monster Trucks is bound to put you in overdrive.
What are the best online games?