Racing Horizon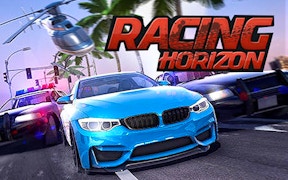 Racing Horizon
Immerse yourself in a dynamic, adrenaline-fueled world with Racing Horizon, a top-tier entrant in the realm of car games. This 3D unlimited racing game takes the thrill of the road and puts it right in your hands. With its captivating interface and sophisticated graphics, it's a standout among driving games.
Racing Horizon is not just about speed, it's an embodiment of skill and strategy, elevating it into the league of best skill games. The action never stops as you weave consistently through highway traffic in your super-powerful car. Upgrade options abound, allowing for personalisation that adds depth to your gaming experience. It's one thing to win; it's another to win with style!
This game brilliantly integrates elements of simulator games providing you with utmost realism. Whether you are embarking on a long highway racing career, or partaking in a quick drive on an endless map – every decision counts.
But the action doesn't stop there! Racing Horizon presents a unique twist by offering police chase missions - delivering on thrills that are rarely found amongst other police games. It's up to you to outrun law enforcement or face the consequences.
Fancy a change of scenery? No problem - various highway maps are waiting for you! Choose your sport car from a vast selection and let your engines roar. Your journey on the road to victory in Racing Horizon is as unique as you make it.
All gamers looking for their next fix in car, driving, simulator or police games should look no further .Racing Horizon combines all these genres into one action-packed game that will leave you yearning for more!
What are the best online games?