Racing Cars Jigsaw Puzzles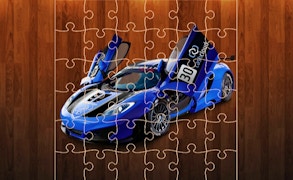 Racing Cars Jigsaw Puzzles
Get ready to speed down the virtual track with the stimulating Racing Cars Jigsaw Puzzles, an enchanting blend of car games and brain games that will surely excite players of all ages. Designed specifically for young minds, this riveting online game is an innovative addition to the genre of Games for Kids that boosts their cognitive processes in a fun and interactive manner.
This lively game cleverly blends the exhilaration of car racing with the intellectual stimulation of jigsaw puzzles. Drag and drop is the name of the game here, as players use their mouse to manoeuvre puzzle pieces into their correct positions. The electrifying world of motor racing comes alive in these intricate puzzles, making it a must-try for any gaming enthusiast.
What sets Racing Cars Jigsaw Puzzles apart from other car games is its adaptability. With four distinct modes - easy, medium, and hard - it tailors its level of challenge based on the player's skills and comfort. Thus, making it an ideal brain game for those seeking to steadily drive up their intellectual horsepower.
This dynamic game promises endless hours of entertainment while also helping to develop critical cognitive skills like problem-solving, hand-eye coordination, and spatial vision. Perfect for those idle afternoons or a quick break between lessons, Racing Cars Jigsaw Puzzles offer a thrilling experience that deftly combines learning with leisure.
To sum up, if you're in need of a boost in your adrenaline while giving your brain cells a workout, buckle up for Racing Cars Jigsaw Puzzles. They are not just games; they are a thrilling journey that pushes your limits while ensuring you have lots of fun!
What are the best online games?