Racing Masters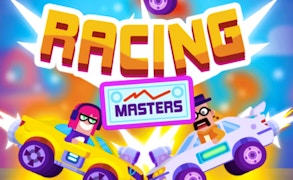 Racing Masters
Welcome to the world of speed in Racing Masters – a thrilling title that will satiate your craving for high-octane car games and addictive driving games. This isn't just another addition to the genre of racing games, it's an exhilarating breath of fresh air that's set to redefine the way you perceive fun games.
Right off the bat, Racing Masters throws you into a vast universe of vehicular excitement. The first thing you'll notice is the sheer variety of collectable cars awaiting in your hangar. But these aren't just any cars - each one comes with unique abilities and weapons that can turn the tide of any race.
Customization
is at the heart of Racing Masters. From enhancing your car's distinctive abilities to equipping them with an arsenal of weapons, every decision plays a critical role in putting you ahead in the race. This game is as much about strategy as it is about speed.
The game's currency comprises coins and diamonds, both serving their unique purposes. Expertly navigate through tracks, perform daring stunts, outpace your opponents, and you'll earn coins to buy upgrades and new cars. You can use diamonds to unlock exclusive stuff that further enhances your racing experience.
This exhilarating experience gets even more thrilling with leagues where true racers shine and establish their dominance. Are you ready to join the ranks with Racing Masters? There has never been a better time for racing enthusiasts who love car games and driving games.
In conclusion, Racing Masters doesn't just provide you an avenue for fun; it provides an immersive experience that takes fun games up more than just a couple of notches! If top-tier car games are what you've been scouting, then Racing Masters has got you covered!
What are the best online games?