Rabbit Jump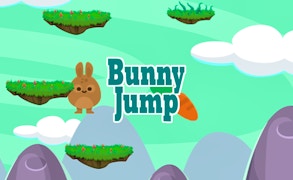 Rabbit Jump
Description
Jump into the world of Rabbit Jump, a fun and exciting arcade game specially designed for kids. The objective of the game is to guide a bunny in its unending quest for carrots, bouncing from one hazardous platform to another. The platforms are filled with risks like plugs and wires which the bunny must dodge to keep that happy look on its face.
How to Play
In the game of Rabbit Jump, your role is to navigate the bunny. Move it by bouncing off platforms and avoid dangerous objects. As you progress, gather as many carrots as you can for a high score. Remember, each dodged obstacle equals more happiness for our furry friend.
Tips and Tricks
The key to advancing in this game is timing. Pay close attention to the movement patterns of obstacles and plan your jumps accordingly. Also, remember that not all platforms are safe – stay alert!
Features
Arcade-style gameplay: Exciting hopping action with intuitive controls.
Addictive objectives: Collect carrots and avoid threats for higher scores.
Friendly Interface: Clean, bright visuals that kids will love.
Suitable for all ages: Simple yet challenging enough for even older players.
What are the best online games?