Rabbit Jigsaw Puzzles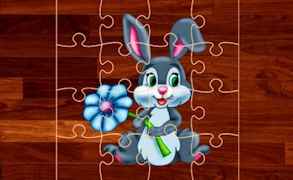 Rabbit Jigsaw Puzzles
Grab your mouse and dive down the rabbit hole into a visually stunning world of color, enchantment, and challenge with Rabbit Jigsaw Puzzles. Designed for kids yet captivating enough to engage the young at heart, this charming game is a delightful addition to the exciting realm of animal games. It's no mere game; it's an adventure that blends fun, education, and entertainment more seamlessly than ever before.
Rabbit Jigsaw Puzzle is not only one of the most entertaining games for Kids, it's also a free online game that combines delightful visuals with mind-teasing puzzles. The game invites you into its ever-inventive universe with an array of 12 visually captivating images depicting our favorite furry friends in their natural habitat. These aren't just any puzzles; they're journeys into vibrant worlds, each more beautifully intricate than the last.
Lovingly crafted for various skill levels, Rabbit Jigsaw Puzzles offers three different modes: easy, medium, and hard. Each mode provides a unique level of challenge designed to put your puzzle-solving skills to the test. The easy setting is perfect for beginners or younger players just starting their gaming journey while the medium mode adds an extra layer of complexity. And for those brave gamers seeking an even bigger challenge, try on for size the hard mode that will undoubtedly stretch your brain power to its limits.
In conclusion, Rabbit Jigsaw Puzzles is more than just another animal-themed puzzle game. It encapsulates everything great about online games; it's fun-filled yet challenging, visually enchanting yet free to play. So why wait? Join us today in this thrilling puzzle adventure and share in the joy of discovery and mastery that only comes when you help piece together these beautiful rabbit-themed jigsaw puzzles.
What are the best online games?