Rabbit Ben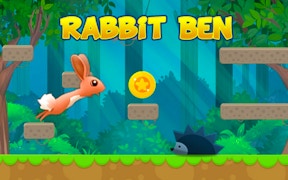 Rabbit Ben
Engage in an immersive, vibrant, and captivating virtual world brimming with charming characters and unexpected challenges with Rabbit Ben, a delightful addition to our selection of animal games! As a reviewer deeply immersed in the colorful world of arcade games for kids, Rabbit Ben is an experience like no other.
Lose yourself in the enchanting tale of an adventurous bunny escaping the monotony of his snug burrow. His wide eyes explore the fascinating wonders around him as he bounding over verdant platforms under a canopy of emerald leaves. The narrative takes an exciting turn as our daring hero lays eyes on a tantalizing treasure - gleaming coins scattered across isolated islets!
The central challenge in Rabbit Ben doesn't merely lie in collecting these glistening rewards. As the guardians of this valuable gold, menacing purple hedgehogs serve as formidable adversaries that keep you on your toes. Their spiky quills pose a constant threat to our furry protagonist, ratcheting up the intensity and thrill in this game designed perfectly for young skill games enthusiasts.
Tasked with guiding our courageous hare away from these buzzing hedgehog threats, you'll find yourself deeply engrossed in this beautiful world. The gameplay dynamics are easy to grasp but offer enough depth to engage even seasoned gamers. The animation is crisp and lively, making Rabbit Ben a visual feast for young players.
In conclusion, Rabbit Ben stands out as an entertaining, engaging, and skill-honing gem amongst other kids arcade games. It seamlessly merges thrilling gameplay with enchanting visuals and an endearing protagonist making it the perfect choice for parents seeking worthwhile gaming content for their kids.
What are the best online games?
TAGS