Pyramid Solitaire Classic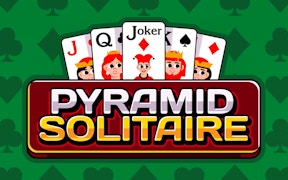 Pyramid Solitaire Classic
Description
In Pyramid Solitaire Classic, your goal is to eradicate all the cards from the pyramid, achieving this goal by pairing two cards that sum up to a total value of 13. You must note that each card bears its face value, with Aces being worth 1 point and Jacks, Queens and Kings bearing 11,12 and 13 points respectively. You can also remove the King as a single card.
How to Play
The game involves combining two cards whose total numerical value is 13. The numerical cards hold their face value, while specific character cards come with specific point values: Ace carries one point, Jack carries eleven points, Queen carries twelve points, and the King corresponds thirteen points and can be removed individually. If you run out of moves on the pyramid, you may draw from the Draw pile for new cards.
Tips and Tricks
Plan your moves carefully. It's always wise to prioritize removing Kings, as they can be taken off individually. Also, aim to uncover and use the hidden pyramid cards first before resorting to the Draw pile. This strategy helps preserve your reservoir of backup options.
Features
Classic solitaire gameplay with a Pyramid twist.
Different face value for character cards (J,Q,K).
A handy Draw pile to provide fresh options if stuck.
Strategic planning required for successful gameplay.
What are the best online games?
Tags