Puzzles - Assemble picture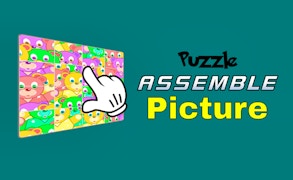 Puzzles - Assemble picture
Description
Welcome to a charming world of Puzzles - Assemble picture, a game tailor-made for children's cognitive development. Involving an interactive tableau of fragmented pictures, players are tasked with constructing complete images by swapping these fragments. The subjects of the puzzles are captivating, ranging from vibrant landscapes to adorable animals, providing an engaging backdrop to the stimulating puzzle gameplay.
How to Play
To start playing, simply click on a puzzle fragment and then click on the area where you wish to position it - the pieces will automatically swap places. For those with a touchscreen device, simply tap on the fragments to move them. Progress through the game by assembling each picture correctly.
Tips and Tricks
A useful strategy is to first aim at completing the borders of the image. Recognizing similar colors, patterns, and shapes can greatly help in matching pieces together. Also, periodically stepping back and viewing your work as a whole can provide new insights into where remaining fragments may fit.
Features
Vivid graphics and captivating imagery keep players engaged.
A brain-stimulating puzzle design enhances children's cognitive abilities.
User-friendly controls – easily swap pieces with a simple click or tap.
A wide variety of puzzle subjects ensure endless enjoyment.
What are the best online games?
Tags