Puppy Sling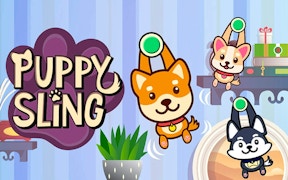 Puppy Sling
Welcome fellow gamers, I am thrilled to share with you a stellar review of the exciting arcade game, Puppy Sling. This irresistible offering in the realm of animal games and skill games is an absolute must-try for those who enjoy rich, immersive experiences in hyper-casual games.
Puppy Sling's appeal lies in its simple yet charming concept. The player gets to drag and launch a playful puppy from one point to the next, testing their aim and trajectory skills. Adding a layer of delightful complexity, this involves slinging, bouncing, and swinging your bouncy fur-ball champion as high as you can – a task requiring dexterity and precision that's bound to set your adrenaline rushing.
This engrossing game offers more than just cute pups and challenging gameplay. It also introduces a reward system where you collect coins throughout your canine-flinging adventures. Accumulate these golden nuggets to unlock an array of irresistibly adorable puppies – including Corgis, Pugs, French Bulldogs, Shiba Inus and more – each adding their unique charm to an already captivating gaming experience.
A standout among arcade and animal-themed skill games, Puppy Sling is one casual gaming journey that will keep you hooked due its engaging challenges and lovable characters. So if you're seeking an addictive or relaxing break from your routine or simply want to test your slingshot skills in a new setting - Puppy Sling might be the perfect pick for you.
Ultimately, Puppy Sling offers an enjoyable gameplay experience steeped in cuteness overload and perfect for players who love casual yet exhilarating arcade-style challenges – it's an addictive diversion that easily captures the spirit of fun-loving hyper-casual gaming.
What are the best online games?