Puppet Hockey Battle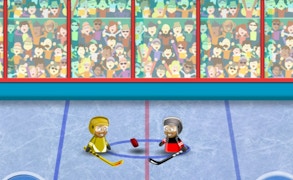 Puppet Hockey Battle
Have you ever imagined what it would be like if Puppets took hold of hockey sticks and entered the rink? Well, Puppet Hockey Battle makes this entertaining thought a reality! It's part of the ever-popular genre of hockey and ball games that brings fun and excitement right at your fingertips.
This 2 player ice hockey game not only presents a unique twist to your regular sports games but also offers an addictive experience that will have any sports enthusiast hooked. Its simplicity is its catch - merely use your stick to get the ball into your opponent's net as many times as possible to secure victory.
The Puppet Hockey Battle cleverly meshes the thrill of international ice hockey with the hilarity intrinsic in puppetry. Choose from 12 best international teams and gear up for some icy action that is as nerve-wracking as it is funny. Bright, eye-catching graphics coupled with smooth controls enhance this experience, putting you smack in the middle of an exciting face-off on ice.
Winning in this game is not simply about scoring goals, but also about strategy and timing. This unpredictability adds a layer of depth to this seemingly simple game. Whether defending your net or maneuvering around your opponent to land a goal, each decision requires quick thinking and swift execution.
If you're searching for something different in the genre of hockey games or ball games, Puppet Hockey Battle promises a comical yet highly engaging gameplay that will keep you coming back for more! With its riveting gameplay, Puppet Hockey Battle truly stands out from the crowd, turning a regular hockey match into an epic puppet show on ice!
What are the best online games?
TAGS