Pump Air And Blast the Balloon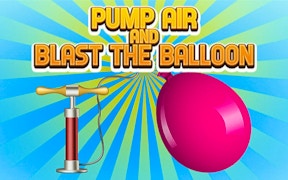 Pump Air And Blast the Balloon
Ready for a blast in the world of arcade gaming? Let me introduce you to an exciting addition to the realm of ball games and hyper casual games; 'Pump Air And Blast the Balloon'. This adrenaline-spiking game offers a unique premise, inviting you to inflate balloons until they explode, while racing against time.
In 'Pump Air And Blast the Balloon', the name of the game is speed. The faster you pump air into your balloon, the quicker it explodes, rewarding you with a higher score. This dynamic gameplay makes it an exhilarating experience for those who enjoy fast-paced arcade action. You're not just pumping air; you're firing up your reflexes, sharpening your timing, and honing those fine motor skills.
The concept might seem simple but don't be fooled; mastering this game is no easy feat. Guiding your pump rod up and down swiftly to beat the timer requires concentration and precise control. And like every superior arcade game, each level ups the ante – offering an ever-increasing challenge that will have even seasoned gamers on their toes.
'Pump Air And Blast the Balloon' beautifully combines elements from classic ball games and trendy hyper casual games. With its vibrant animations and engaging mechanics, it delivers a visually appealing playground that swiftly turns into an intense battlefield as you progress through levels.
In summary, 'Pump Air And Blast the Balloon' is more than just an explosion of fun. It's a celebration of old-school arcade charm married with modern hyper-casual gameplay dynamics. So if you're yearning for a unique spin on conventional ball games or looking for your next go-to hyper casual game, it's time to pick up your virtual pump - let's see if you have what it takes to master this explosive adventure!
What are the best online games?