Pull The Pin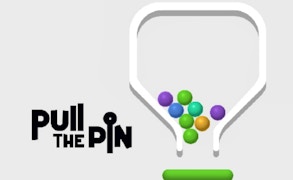 Pull The Pin
Injecting a refreshing twist into the realm of arcade, the game Pull The Pin crafts a unique blend of sharp-witted strategy and tactile skill. This innovative entrant into the sphere of ball games and hyper casual games truly captivates with its engaging gameplay dynamics.
The game's premise is delightfully simple - just pull the pin with your mouse, releasing a cascade of balls into ready cups. This minimalistic mechanic is easy to grasp yet challenging to master, placing it squarely within the sweet spot that defines memorable skill games.
In Pull The Pin, every move matters. Each level presents a distinct puzzle where you must strategize the perfect moment to release your balls. The goal? Filling every cup without losing a single sphere. This strategic underpinning elevates it beyond mere child's play, providing an enthralling experience for gamers of all ages.
Filled with vibrant colors and sleek graphics, Pull The Pin delights visually as much as it does strategically. Amidst bright backdrops and playful animations, this title brings a refreshing aesthetic quality to the arcade genre.
In conclusion, Pull The Pin is an addictive arcade game that seamlessly blends strategy with skill in delightful ball-dropping puzzles. It's far more than just another entrant in the realm of hyper-casual ball games—it's an essential addition to any gamer's collection.
So go ahead and get your strategy on point; challenge your nimble reflexes; immerse yourself in a world where every ball counts. Pull the pin—you'll be hooked from ball one!
What are the best online games?