Pull Pins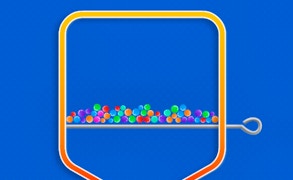 Pull Pins
Arcade gaming has evolved over the years, and Pull Pins is proof of this evolution. A vivid testament to the modern interpretation of arcade games in the realm of ball games, skill games, and more specifically, hyper-casual games. Pull Pins masterfully combines the thrill of arcade gaming with intriguing puzzles that demand your concentration and skill.
The game features an unlimited number of levels packed with a myriad of challenges. Each challenge represents a unique puzzle waiting to be solved - a puzzle centered around pulling pins in the correct order to guide balls to their destination. Pull Pins will test your critical thinking abilities, challenging you to solve increasingly complex puzzles as you progress.
In the world of ball games, Pull Pins brings a fresh perspective. It's not about scoring goals or dodging opponents, it's about strategically pulling pins and watching as gravity takes over, directing the balls along their designated paths.
This game effortlessly fits into the category of skill games. The real draw is its simplicity coupled with its demand for precision and foresight. Each new level ups the ante, requiring more skill and strategic planning than the last.
As part of the growing trend of hyper-casual games, Pull Pins is a great choice for gamers who enjoy bite-sized gaming sessions. Its pick-up-and-play nature means that you can jump straight into the action regardless of how much time you have on hand.
In essence, Pull Pins is an inventive addition to the arcade genre that leverages ball physics as a core gameplay mechanic. With its endless levels and escalating difficulty curve, Pull Pins is an assured treat for fans of ball games, skill games, hyper-casual games or just lovers of brain-teasing puzzles!
What are the best online games?