Powerline.io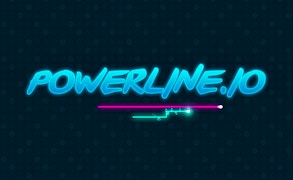 Powerline.io
Amp Up Your Gaming Experience with Powerline.io
Immerse yourself in a high-voltage universe with
Powerline.io
. This online multiplayer sensation, heavily influenced by the timeless Snake game, transforms you into a luminous line of electricity in a gripping arena, where danger and opportunity spark in every corner. The objective? Outwit, outmaneuver, and overpower rival Powerlines. And the reward? The thrill of the chase, the exhilaration of growing stronger, and a place of honor on the leaderboards.
The Electrifying Gameplay of Powerline.io
In
Powerline.io
, your survival hinges on your reflexes and strategy. As a fragile electric line, head-on collisions with yourself, competitors, or the border will prove fatal. The essence of the game lies in your ability to tactically corner other players, triggering them to crash into you head-first. Each successful encounter lets you absorb their residual energy, elevating your size, augmenting your score, and getting you closer to becoming the ultimate Powerline.
Evolution: From a Line to the King of Electricity
The battle for energy crystals remains a constant in your journey to supremacy. The beauty of
Powerline.io
is that you can grow ceaselessly, for as long as you dodge danger and sustain your will to survive. But remember, reaching the pinnacle of the leaderboard crowns you as the King of Electricity, making you a tantalizing target for all the aspiring Powerlines, looking to dethrone you and devour your hard-earned energy.
Boosting: A Surge of Excitement
Powerline.io
allows you to feed off the proximity of fellow Powerlines, resulting in a surge of electricity that boosts your speed. The closer and longer you stick to another Powerline, the more rapid the boost. If your reflexes are quick enough, you can use this surge to outpace your adversaries, leading them into your trap!
Communicate: Harness the Power of Chat
The creators of
Powerline.io
, Profusion Studios, have incorporated a chat function that enhances the gameplay by promoting communication with other Powerlines. With a simple tap of the 'T' key, you can access various phrases to interact with other players and share your electrifying gaming experiences.
Platforms: An Electrifying Game Across Devices
Take your gaming experience wherever you go as
Powerline.io
is available as a web browser game, and also on Android and iOS apps. This flexibility allows you to carry your gaming universe in your pocket, ensuring you never miss a chance to grow your Powerline, no matter where you are.
Controls: Unleash the Powerline Within
- The WASD keys are your primary controls for movement within the game. The W and S keys enable you to move up and down, while the A and D keys let you move left and right, respectively. - Remember to use 'T' to access the chat function for communication. Dive into this mesmerizing world of
Powerline.io
, where the stakes are high, the competition is fierce, and the thrill is unmatched. Buckle up, outmaneuver your rivals, collect the coveted energy crystals, and power your way to the top!
What are the best online games?
TAGS