Port Truck Parking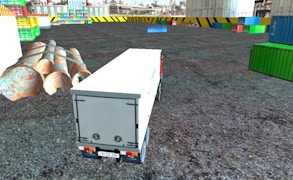 Port Truck Parking
Dive into the world of Port Truck Parking, an exhilarating addition to the realm of truck games that skillfully merges the thrills of driving games with the precision demanded by parking games. In this immersive 3D truck parking game, players find themselves adrift in a gritty port city where their talent for navigating monstrous vehicles will be put to the ultimate test.
Your journey as a driver begins in the high-octane environment of street racing and culminates in a challenging role that demands technical proficiency and strategic expertise. As an accomplished pro from the racing circuit, you're not just another driver; you're a maestro capable of executing feats of parking brilliance even under the most daunting circumstances. The local port manager needs a skilled operative, and you're exactly what they're looking for.
Port Truck Parking not only brings more than 100 nail-biting levels but also empowers you with comprehensive control over your truck. Command using WASD or Arrow keys to drive your way through each level, utilize Space for handbrake, and C to change your camera perspective - all designed to provide an engaging and responsive Skill Game experience.
The captivating 3D graphics coupled with a grim port city backdrop make every play session feel like a fresh adventure. With each level demanding sharp skill-sets, quick thinking strategies and unwavering focus, Port Truck Parking brings everything that fans love about racing, driving games, and nerve-wracking parking challenges.
In conclusion, Port Truck Parking stands out as an engaging entry among truck games. It successfully combines the adrenaline-pumping action of racing games with the strategic demands of parking games, presenting gamers with a robust challenge that will keep them on their toes.
What are the best online games?