Pop It Roller Splat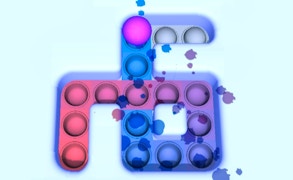 Pop It Roller Splat
Immerse yourself in the exciting world of Pop It Roller Splat, a Hyper Casual Game that takes the charm and simplicity of traditional ball games to an enthralling new level. It's not just another game; it's a mesmerizing journey filled with captivating colours and suspenseful moments.
This game melds the creativity of painting with the thrill of arcade gaming, offering you an experience that's as engaging as it is visually arresting. The task is simple, yet addictive: Navigate your ball across a pristine canvas, painting over every white space to unveil the colourful masterpiece beneath.
In Pop It Roller Splat, your ball becomes a rolling paintbrush, darting across your screen with a mind of its own. Your control over this spirited ball is pivotal, guiding its movement until it crashes into the wall at the end of each track. This unique gameplay provides an intense gaming experience that demands strategy and precision.
The absence of time limitations adds to Pop It Roller Splat's appeal, granting you complete freedom to strategize and revel in each level at your own pace. But don't be fooled by this seeming leisure; the game keeps you on your toes, testing your patience and agility at every turn.
Inspired by traditional ball games, Pop It Roller Splat exudes novelty while also triggering a sense of nostalgia. This fusion makes for an unforgettable gaming experience that will keep you coming back for more.
To sum up, if you're on the hunt for a game that perfectly blends simplicity, creativity and excitement – look no further than Pop It Roller Splat. Jump into this hypnotic world now and let the rolling splatting adventure begin!
What are the best online games?