Pop It Jigsaw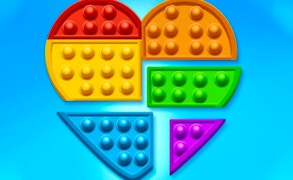 Pop It Jigsaw
Transport yourself into a fantastical world of puzzle-solving delight with Pop It Jigsaw. A product uniquely designed for kids, this magical offering seamlessly blends the thrill of ball games with the challenge of jigsaw puzzles, earning its position in the pantheon of premier games for kids.
Familiar yet innovative, Pop It Jigsaw makes a mark by masterfully merging elements of various game genres. A stroke of genius helps it ingeniously incorporate elements from match 3 games, making it increasingly captivating for our young gaming enthusiasts. The result is an irresistible concoction that prompts players to tap until they triumph.
If you've been on the hunt for stimulating clicker games, then Pop It Jigsaw is your perfect playmate. Unleashing a shower of shiny gold coins with every level you conquer, this enthralling game fuels your quest with a potent punch of motivation. The glittery rewards can then be utilized judiciously to unlock a plethora of resplendent backgrounds and charismatic character skins.
A visual treat with over 20 vibrant cartoon graphics, Pop It Jigsaw mesmerizes players by instilling in them a sense of accomplishment as they piece together each delightful image. As one dives deeper into this vibrant sea, one cannot help but appreciate the intuitive gameplay and charming visuals that make it one of the most beloved tap games.
In conclusion, Pop It Jigsaw harnesses the power of engaging gameplay mechanics and delivers on all fronts, providing a unique gaming experience. An enticing blend of ball games and jigsaw puzzles rolled into one exciting package - it beckons you to pop into this enchanting world!
What are the best online games?