Pop it Fidget Toy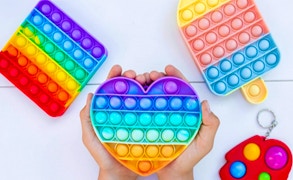 Pop it Fidget Toy
Welcome to the world of Pop it Fidget Toy, a vibrant kaleidoscope of color and sound that weaves a mesmerizing magic you'd be hard-pressed to resist. This charmingly addictive entrant in the realm of ball games and clicker games is perfectly suited for those thirsting for an immersive hyper casual game experience.
In the bustling landscape of Games for Kids, Pop it Fidget Toy stands tall as a respite, designed meticulously with an understanding of its young audience's needs. It's not just a game, but rather a toy box overflowing with unique fidget toys meant for anxiety and anger management.
The game offers an array of sensory pop it fidgets that are designed to provide calming and relaxant effects. They are equipped with soothing ASMR sounds which truly cater to satisfying your senses, creating an ambiance of tranquility amidst the hustle and bustle. A pure stress reliever, this game engages children in thoughtful activity, subtly diverting their energy into a comforting space.
The touch-driven interactivity is laudable; whether it's popping bubbles or spinning gears, every click unlocks a new level of satisfaction. The simplicity is enchanting; no complex mechanics or high stakes - just pure, unadulterated fun at your fingertips.
To sum up, Pop it Fidget Toy is more than just a game. It's a handy tool for parents looking for ways to keep their kids engaged constructively while indirectly aiding them in managing anxiety and anger. The sensory delights wrapped in the vibrant aesthetics make this gem shine brightly in the crowded galaxy of ball games and hyper casual games.
If you're on the lookout for a fun, stress-relieving pastime for your little ones where they can play and grow simultaneously - look no further than Pop it Fidget Toy. Let them dive into this spectacular sensory universe!
What are the best online games?