Pop It! 3D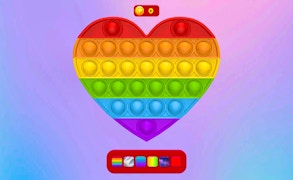 Pop It! 3D
Calling all virtual adventurers, we present our latest game find - Pop It! 3D. This is not just one of your run-of-the-mill simulator games; it's an immersive journey into 3D magic sprinkled with the soothing powers of ASMR. Set in arresting 3D realms, this game is everything you need to unwind in these stressful times.
The game neatly weaves itself into the world of animal games and educational games, making it ideal for the young learners. Games for Kids seldom match up to the wholesome experience that Pop It! 3D provides. The vibrant colors, animated animals, and engaging challenges lead to an educational escapade that makes learning fun and enjoyable.
The USP of Pop It! 3D lies in its infusion of relaxing ASMR. While the game is thrillingly engaging and mentally stimulating, the ASMR element ensures a calming experience keeping stress at bay. The gameplay revolves around popping 3D bubbles with various objects and animals inside them. With each pop comes a learning moment—and a wave of soothing relaxation.
Navigating through this game is like skating on a rainbow, soft yet thrilling - thanks to its user-friendly interface, clear instructions, and captivating gameplay. Every aspect of this game underlines simplicity but doesn't compromise on invigorating fun.
To sum up, Pop It! 3D stands as a testament to innovative game creation bringing together simulation, education, entertainment and relaxation all within one platform. So parents out there looking for an adventurous yet informative journey for their young ones – don't miss out on this wonderful gem in the world of kids arcade games.
What are the best online games?