Pong Go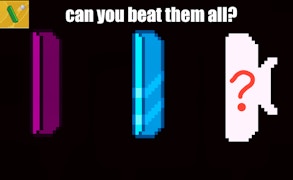 Pong Go
Description
In PONG GO, you'll find yourself in the shoes of a tiny paddle, tasked with deflecting a persistent ball across three challenging stages. With each level, you'll face increasingly complex battles against formidable adversaries, culminating in a fierce showdown with the Illusion Demon. A secret level exists but its conquerability remains shrouded in mystery.
How to Play
The game mechanics are simple and intuitive - use your keyboard's arrow keys to control the paddle and deflect the ball. Your goal is to prevent your adversary from hitting the ball past your defenses. The game difficulty escalates with each level – careful, that Illusion Demon packs quite a punch!
Tips and Tricks
Timing is everything! Predicting the trajectory of the incoming ball is key to successful defense. Master subtle paddle movements for better control and precision. Also, keep an eye out for indications of that elusive secret level... but be warned, it's not for the faint of heart!
Features
Action-packed Gameplay: Engage in intense arcade-style battles.
Varying Difficulties: Conquer three levels of increasing complexity.
Boss Battle: Face off against a formidable Illusion Demon.
Secret Level: Discover an unbeatable challenge... or is it?
What are the best online games?
Tags