Pompas Breaker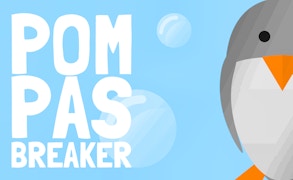 Pompas Breaker
Description
In Pompas Breaker, you're equipped with a water hose, aiming at the sky filled with birds. Your mission is to make the birds drop their feathers by soaking them with water and pop the hanging bubbles before they startle and disperse the birds. This shooting game combines accuracy, timing, and strategy to create a fast-paced, addictive gameplay.
How to play
This game is very easy to play but challenging to master. Tap or click on the screen to aim and shoot water streams at the flying birds. Be careful not to scare them away! The faster you break bubbles and collect feathers, the higher your score will be. Continuous shooting boosts your combo multiplier feed for exponential scoring!
Tips and Tricks
Aim accurately and choose your shots carefully for maximum points. Don't forget that scaring off birds will result in score penalties! Avoid unnecessary shooting at empty spaces; instead focus on popping bubbles rapidly. Keep an eye out for special power-ups that can give you an edge in this feather-collecting frenzy.
Features
Catchy visual effects: Enjoy vivid graphics and smooth animation.
Straightforward controls: The intuitive tap-to-shoot control system allows players of all levels to enjoy the game.
Endless gameplay: With no level limits, aim for personal high scores!
Addictive mechanics: The combination of shooting, bursting bubbles, and bird watching provides an exceptional gaming experience.
What are the best online games?