Police Real Chase Car Simulator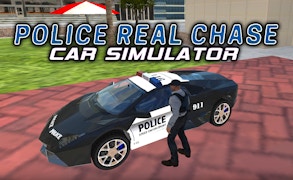 Police Real Chase Car Simulator
If you're a fan of car games, police games, or just an avid gamer who loves intense driving experiences, then you're going to want to buckle up for Police Real Chase Car Simulator. This game isn't just about driving; it's about embracing the thrill of the chase, honing in on your target, and performing high-risk stunts - all whilst maintaining control of your vehicle.
This isn't your run-of-the-mill simulator game. Police Real Chase Car Simulator offers an immersive, open-world gaming experience that will have you reaching for the ignition time and time again. You'll be hard-pressed to find other driving games with such realistic car mechanics and physics that make every drift, turn, and acceleration feel authentic.
The game is challenging - as any good car chase should be - but it's this intensity that makes playing so rewarding. Missions are tough but completing them will leave you feeling like a bona fide stunt driver. And let's not forget the nerve-racking but exhilarating task of weaving through traffic and skirting around obstacles whilst on a mission – a thrilling feature not commonly found in other drifting games.
In Police Real Chase Car Simulator, each journey across various routes between buildings becomes an action-filled adventure where your car driving skills are put to the test. This is one of those car driving simulators that will satisfy both speed junkies and casual gamers alike, making it a must-have addition to any game collection.
In conclusion, if you love fast-paced gameplay mixed with realistic auto driving simulations, Police Real Chase Car Simulator is your game. If you don't believe me just remember: It's more than a chase; it's a pursuit for perfection.
What are the best online games?