Police Endless Car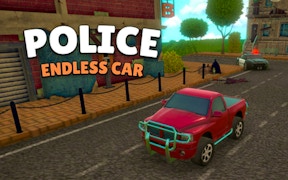 Police Endless Car
As an avid fan of car games and high-octane thrills, I find the adrenaline-inducing Police Endless Car a captivating addition to a great cast of driving games. One moment you're tearing up the asphalt, the next you're dodging the relentless pursuit of the boys in blue. The riveting loop keeps me coming back for more.
In this potent mix of police games and running games, you aren't just evading law enforcement as in your average chase games. The game pushes your abilities to the limit, forcing you to think two steps ahead as you dart between lanes, outmaneuvering police cruisers and collecting coins along with useful superpowers to ease your quest.
The heart-pounding Police Endless Car is not just another run-of-the-mill driving game; it borders on being a high stakes skill game that puts your reflexes and tactical prowess to the test. As a fan of Skill Games, I found the game's mechanics deeply involving and thoroughly satisfying. It's like threading a sports car through midday traffic in downtown LA with a twist - getting away from tireless pursuers who have only one thing on their mind: stopping you dead in your tracks.
Picking up superpowers as you zip down highways adds an extra layer of excitement and strategy. This isn't merely about outrunning cops; it's also about being smart about it. Do you use that boost now? Or do you save it for when things get rough? These tactical choices amplify the fun factor significantly, making Police Endless Car even more addictive.
In conclusion, whether or not police chases are your thing, if you're looking for a game that brings together fast cars, quick wits, and non-stop action into one exciting package - look no further than Police Endless Car. A perfect blend of car games, driving games, skill games, police games and running games that will keep gamers coming back for more!
What are the best online games?