Police Drift Car Driving Stunt Game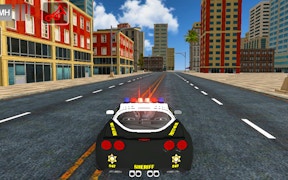 Police Drift Car Driving Stunt Game
Unleash the adrenaline-pumping thrill of car games with the Police Drift Car Driving Stunt Game. As one of the most exhilarating driving games, this masterpiece offers a unique blend of high-speed chases, action-packed drifting games, and heart-stopping stunts to keep you on your toes.
The game carves a niche among other popular simulator games, allowing players to literally get behind the wheel of a Police car, and experience firsthand, the relentless pursuit of justice on the city streets.
In this riveting ordeal of Skill Games, there's no speed limit to respect or traffic rules to abide by. You're the law here – a daring cop with an insatiable need for speed and thrill. Drift through the city as you please, challenge your limits with jaw-dropping stunts or chase your peak performance in this top-tier driving simulator.
The most rewarding aspect? The more daring you are, the more points you earn! These points unlock an array of awe-inspiring cars that upraise your chase game. It's not just about mastering driving; it's about understanding how every vehicle behaves in different situations, making it one of those police games that not only test but also upgrade your driving skills.
The Police Drift Car Driving Stunt Game is much more than just another entrant in the world of car games; it's an exhilarating ride packed with action, thrill and awe-inspiring drifts that will keep even the most seasoned gamers on edge. Step into a world where reality drifts away with every turn- and remember - in this city, you're not just a driver; you're a legend.
So buckle up, turn that siren on and let's see how daring you're going to be!
What are the best online games?