Police Chase Real Cop Car Driver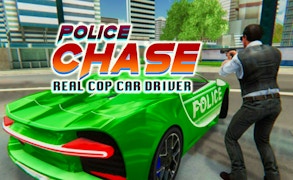 Police Chase Real Cop Car Driver
Immerse yourself in the exhilarating world of high-speed pursuits with the latest sensation in car games, "Police Chase Real Cop Car Driver". This game offers an intoxicating mix of driving games and skill games, blended flawlessly to deliver a heart-racing experience like never before.
In this alluring game, you don't just race; you chase, you fight, and you protect. When it comes to police games, "Police Chase Real Cop Car Driver" surely outpaces its competitors with its thrilling storyline that closely mirrors the challenges of real-life law enforcement pursuits. So, strap in and get ready to put your driving skills to test.
You are a beacon of justice in this chaotic city, following helicopters, chasing down brazen thieves, rescuming innocent people, and facing off against evil. The adrenaline-pumping excitement that comes from playing these types of gun games is evident throughout your journey as a cop.
The game developers have added an assortment of sportscars for players to choose from; however, unlocking these high-speed masterpieces requires diligence as you gather money during your crime-fighting escapades.
The driving mechanics are refined and responsive allowing for precise control even at top speed, adding another intricate layer to the skill requirements needed in such car games. The wide roads provide plenty of room for high-speed manoeuvring as you give chase or make daring escapes.
"Police Chase Real Cop Car Driver" successfully merges the thrill of racing games, the challenging aspects of skill games, and the intense action typical of gun games. This synthesis creates an unforgettable gaming experience that will keep players coming back for more.
If you have an unquenchable thirst for speed, a predilection for action-packed encounters or simply love police games, then "Police Chase Real Cop Car Driver" should be next on your list. Lay down the law in style and become the protector that your city needs!
What are the best online games?