Police Car Simulator 3d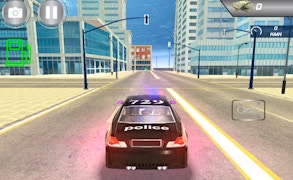 Police Car Simulator 3d
Get ready to hear sirens in your sleep, as today we're diving into the heart-pounding, adrenaline-pumping world of Police Car Simulator 3D. Whether you're a veteran fan of car games or a newbie with a need for speed, this game is sure to get your heart racing.
This isn't just any standard entry in the realm of driving games. Police Car Simulator 3D stands out boldly, proudly wearing its badge as one of the finest simulator games and police games on the market today. With its blend of fast-paced action and strategic chasing mechanics, it leaves no stone unturned in providing an immersive law enforcement experience.
It's impossible not to be impressed by the catalogue of HD realistic cars at your disposal. Each model is meticulously crafted right down to the last detail, enabling an unparalleled level of realism that sets it apart from many other car games. Whether you're weaving through traffic or barreling down alleyways in pursuit of lawbreakers, every moment in this game feels visceral and real.
The environment itself deserves a shout-out too. The sprawling cityscape provides an ideal playground for would-be cops and robbers alike, with all the thrills and spills you'd expect from top-tier simulator games.
In conclusion, Police Car Simulator 3D is more than just another addition to our ever-growing roster of car and driving games - it's an invitation to experience life behind the wheel of a high-speed police cruiser. So why spend time searching for other simulator games or police games when the best city police car simulator game of 2020 awaits? Strap in, hit those flashing lights, and prepare for the ride of your life!
What are the best online games?