Police Car Simulator 2020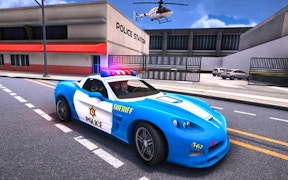 Police Car Simulator 2020
If you are a fan of car games, driving games, or police games, then fasten your seatbelts for the ride of your life. We introduce to you an adrenaline-fueled ride through "Police Car Simulator 2020". This game offers an exhilarating blend of speed, action, and adventure, served up in a highly realistic virtual environment.
The essence of this gameplay revolves around being a cop and taking on the streets with your high-speed police cars. The gameplay is immersive, with an impressive selection of 9 super police cars that cater to every driving style. From slick city cruisers to rugged offroad games beasts, each car feels distinct and authentic.
This gaming masterpiece takes simulator games to another level. You are not just taking a drive; you're striving to protect your city and executing high-speed stunts while doing so. Calling it addictive would be an understatement, as this game provides hours upon hours of captivating gameplay.
"Police Car Simulator 2020" features vast terrains to explore from bustling cityscapes to serenely beautiful countryside landscapes. It's like having the freedom of an open road coupled with the thrill of being chased by thugs or catching criminals in action.
In other words, "Police Car Simulator 2020" is not just about being behind the wheel; it's about being behind the badge too! Rest assured that Police Car Simulator 2020 will appeal not only for fans of driving games but also those who love action-packed simulation experiences.
Be warned though! The developers may claim they are not responsible for addiction, but once you have tasted the high-speed action tied into impressive graphical scenery, saying goodbye might become unexpectedly hard. So if you're looking for a new kind of rush, gear up and get ready for "Police Car Simulator 2020". Racing has never felt so real!
What are the best online games?