Police Car Chase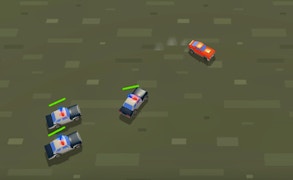 Police Car Chase
Step into a world of high-speed pursuit and adrenaline-fueled excitement with Police Car Chase, a gripping installment in the realm of car games. As an authentic blend of thrills, strategy and exhilarating gameplay, Police Car Chase redefines the landscape of police games, taking you on a high-octane escapade that tests your driving prowess.
The game's captivating premise is simple yet riveting. You're tasked with commandeering a super-fast car, evading the relentless police pursuit. It's not just about flooring the gas pedal; this game intricately weaves in elements of strategy, making it a standout in the panorama of escape games. Just when you think you've outrun the law enforcement's clutches, they ratchet up their pursuit, challenging core gaming skills.
Your driving agility isn't the only thing put to test here. Police Car Chase offers an immersive progression system that keeps you hooked. The more you escape and survive these thrilling chases, the more money you accumulate. This hard-earned loot gives you access to new cars, each with its unique attributes and compelling designs.
Aesthetically striking environments and intuitive controls elevate the gameplay to another level. The inclusion of drifting mechanics adds another dimension to its appeal, securing its place among top-notch drifting games. The thrill of executing that perfect drift while shaking off the pursuing police sets this game apart.
In conclusion, Police Car Chase is a rollercoaster ride infused with adrenaline-pumping action, engaging storyline and impressive graphics. If you're an aficionado of racing or police games or if heart-pounding escape scenarios get your gaming senses tingling - Police Car Chase deserves a spot on your must-play list!
What are the best online games?