Police Boat Chase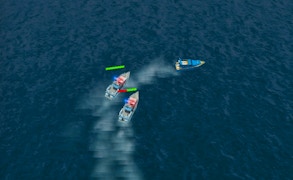 Police Boat Chase
Rev your engines and brace yourselves for velocity with adrenaline-fueled thrills in the dynamic world of Police Boat Chase. Submerge yourself in this high-octane, action-packed spectacle that smuggles you into a frenzied pursuit on the azure sea, circumnavigating the realm of regular driving games.
In Police Boat Chase, you're thrust into a neck-breaking chase where you must find refuge from the relentless police boats in hot pursuit. This isn't your typical battle game. Here, strategy melds with speed as each evasive manoeuvre and rapid acceleration could mean the difference between freedom or capture.
This game combines both elements of skill and thrill. It fits perfectly into the box of skill games, demanding more than just swift fingers. It is a test of reaction time, strategic planning and audacious execution. Use WASD or Arrows to navigate through treacherous waters while resisting the aggressive police boats.
The game's captivating mechanics give a simultaneous sense of urgency and control. Engage in physics-defying turns with an impressive drifting system that sets it apart from other pedestrian drifting games. The physics are spectacularly authentic, bolstering immersion to plunge you into this riveting boat chase.
In Police Boat Chase, every second is crammed with tension – a heart-racing equivalent to conventional police games. This game is no mere jaunt on tranquil waters; it's an all-out aquatic war for survival that will keep you riding waves of exhilaration for hours on end.
If you're spying for an action-packed mix of driving, drifting and challenging pursuit escapade, then Police Boat Chase will hook you in like no other game can! So buckle up gamers, it's time to duck and weave through high-speed waterways!
What are the best online games?