Pokey Ball Online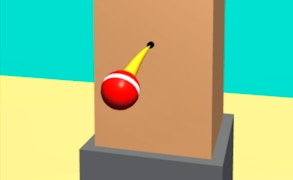 Pokey Ball Online
Get ready to dabble in the addictive world of Pokey Ball Online, an enthralling arcade online game that takes the joy of ball games to a whole new level. With its riveting gameplay, engaging controls, and incessant challenge, it's a must-play for fans of hyper casual games.
The concept is simple - control the ball to reach unparalleled heights and obtain the ultimate prize, an elusive box. However, it's not as straightforward as it seems. The road is fraught with obstacles designed to deter you from achieving your goal. The perfect blend of challenge and fun makes this one of the standout ball games online.
Aiming for the bulls-eye in Pokey Ball Online is like threading a needle; precision is key. If you manage to hit dead center of the target, your ball will soar like a bird freed from its cage. Fail, and you'll be sent tumbling back down to where you started. But don't let that discourage you! In the game of Pokey Ball Online just as in life, persistence pays off.
Every failure is a stepping stone leading to eventual success; every tumble refines your skills and inches you closer to victory. Each triumph in this game isn't just about reaching greater heights or unlocking new skins; it's a testament to your willpower—a symbol of your undying determination.
In conclusion, Pokey Ball Online is more than just another game in the crowded market of hyper casual games; it's an experience that tests your patience and grit while keeping you thoroughly entertained. So gear up, take aim and prepare for a journey packed with adrenaline-pumping action!
What are the best online games?