Pocket Solitaire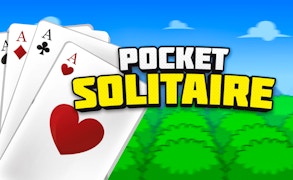 Pocket Solitaire
Description
Pocket Solitaire is a compelling online card game with a classic solitaire layout. Revolving around shrewd strategic moves and problem-solving prowess, it offers hours of engrossing entertainment. The game's objective involves moving all tableau cards to the foundation piles in an ascending order according to their suit. The essence of the game lies in beating the clock and solving the puzzle within the given number of moves.
How to Play
The controls are simple, requiring only your mouse or touchscreen for card selection and movement. Initially, all cards are on the tableau pile, your task being to shift them onto the foundation piles according to suit in ascending order starting from Ace. Each move should be strategic as only a limited number of moves are allowed. The game progresses as you successfully shift all the cards before running out of time.
Tips and Tricks
Analyze your moves wisely as some can lead to dead ends with no further possibilities. Always prioritize exposing concealed cards on the tableau as they can offer more options for movement. Familiarize yourself with solitaire rules and strategies, they can drastically improve your gameplay performance.
Features
An interactive online platform suitable for players of all ages.
A captivating mix of strategic planning and quick-thinking challenges.
An engaging single-player mode that provides hours of entertainment
User-friendly controls ensuring an enjoyable gaming experience.
A classic solitaire design with intuitive gameplay mechanics.
What are the best online games?
Tags