Pocket Jump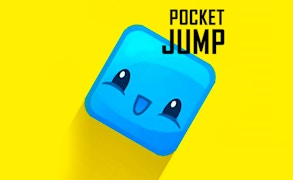 Pocket Jump
Description
Pocket Jump is an exhilarating arcade game that will keep you hooked for hours. Your mission is to jump as high as possible, testing your reflexes and skills. With precise timing and quick decision making, you can reach unimagined heights in this thrilling game. Achieve high scores and challenge your friends to beat them!
How to play
The controls of Pocket Jump are straightforward. You simply need to tap on the screen to make your character jump. The trick is in the timing - you should aim for the perfect moment when the character can ascend higher. Be alert, as obstacles may appear that you need to avoid. The higher you jump, the bigger the score!
Tips and Tricks
Keep a close eye on possible upcoming platforms - this will help you prepare for your next jump. It's all about timing, so practice those jumps! Also, remember that momentum is key. Keep climbing without pause to enhance your chances of achieving a high score.
Features
Easy-to-learn controls: Just tap to jump!
Addictive gameplay: Reach new heights every time you play.
Friendly competition: Challenge your friends and break their records.
Crisp graphics: Enjoy clean and colorful visuals that enhance gameplay.
What are the best online games?