Pocket Drift Racing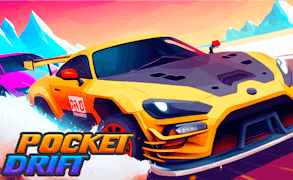 Pocket Drift Racing
Description
Pocket Drift Racing is an exhilarating racing game that tests your skills in controlling five distinct cars on 5 unique tracks. The game is all about mastering the art of drifting, earning points not only for speed but also for style and precision. The game has a top-down view, providing an isometric perspective of the racing track, which adds to the overall gaming experience.
How to play
The game has straightforward controls making it easy even for beginners. Players need to navigate their cars around the tracks, intentionally losing traction to drift through turns. Points are given based on the duration and style of each drift. Although it's simple to start, mastering the perfect drift takes skill and practice.
Tips and Tricks
To score high in Pocket Drift Racing, focus on your drifting skills. Aim for long, smooth drifts around sharp corners instead of short, abrupt ones. Timing is crucial - initiate your drifts at the right moment and maintain control throughout each turn.
Features
Five unique cars: Each with different handling and performance metrics.
Five challenging tracks: Various layouts test your drifting skills to the limit.
Rewards for style: Earn points based on the length and control of your drifts.
Pure racing action: No distracting power-ups or gimmicks - just skill-based racing action.
What are the best online games?