Plinko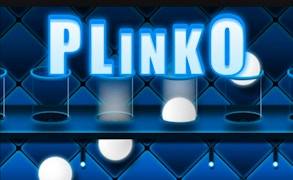 Plinko
Welcome to the vibrant world of Plinko, a dynamic entry into the realm of casino games that combines the thrill of chance with the skill of strategic positioning. Far from your typical money games, Plinko stands out as an intoxicating blend of casino excitement and simple, yet engaging gameplay.
From the moment you step into the glitzy confines of Plinko's virtual casino, you're invited to try your luck in a uniquely engaging and enjoyable way. The game fuses elements from traditional ball games with the heart-pounding anticipation that only comes from betting real money. You're not just dropping a chip - you're taking a shot at fortune!
The core mechanics are surprisingly simple; make your bet, choose your position, and let gravity do the rest. But don't be fooled - beneath this simplicity lies a depth that few casino games can match. Each chip drop becomes a nail-biting event as it bounces towards pockets brimming with potential earnings.
Plinko's HTML5 design is not only aesthetically pleasing, but it also ensures seamless gameplay across a variety of devices. Whether you're feeling lucky on your morning commute or killing time at home, Plinko offers an easy-to-navigate interface and smooth animations for an all-encompassing gaming experience.
To sum things up, Plinko masterfully brings together elements from classic ball games, strategic planning and the thrill factor of money-based wagering. Whether you're new to money games, or an experienced gambler, Plinko's accessible gameplay and eye-catching graphics will surely keep you coming back for more.
If high stakes excitement accompanied by calculated strategy is what you seek in your gaming adventures, look no further! Make a bet and begin your journey with Plinko today!
What are the best online games?